Reflective Material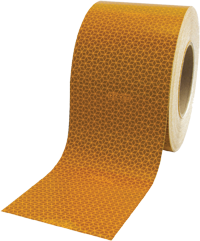 International Decal Management Corporation can assist you with your reflective vinyl needs. Not only can we provide you with FRA approved reflective material we can help you manage the application process. For one small fee, we will monitor the movement of your railcars, arrange for the application of reflective vinyl and make sure your equipment moves without delay. Don't hesitate to give us a call for all of your reflective vinyl and other railcar vinyl needs. All products used are high quality Reflexite Material
DEPARTMENT OF TRANSPORTATION Federal Railroad Administration 49 CFR Part 224 [Docket No. FRA–1999–6689, Notice No. 4 RIN 2130–AB41 Reflectorization of Rail Freight Rolling Stock AGENCY: Federal Railroad Administration (FRA), Department of Transportation (DOT).
ACTION: Final rule.
SUMMARY: FRA is issuing this final rule to mandate the reflectorization of freight rolling stock (freight cars and locomotives) to enhance the visibility of trains in order to reduce the number and severity of accidents at highway-rail grade crossings in which train visibility is a contributing factor. This rule establishes a schedule for the application of retroreflective material and prescribes standards for the construction, performance, application, inspection, and maintenance of the material.
DATES: Effective Date: March 4, 2005.
Reflective material can be provided in kiss-cut roll form or precut in car sets for easier application. Each shipment of reflective material includes an instructional picture to assist in first time applications and for FRA compliance.
Other uses for reflective material include trucking, school bus application and a multitude of other safety and warning devices.
Contact Tracy DeLeon for more information and a complimentary price quotation.
Reflexive Material PDF Downloads
Reflexite Rail Conspicuity Material
Brochure VC
Color Card V82
Flier V98
RSA2340_ReflexiteV98_AI-sm
V98 PB
V98-ColorCard